Sydney's Danger Zones and Supply Issues

by Marshall Cobb - Principal
This week Citibank listed 87 blackspots across the country where they "may" require buyers to contribute up to 35% as an initial deposit. 34 of the blackspots are in Sydney, and clustered around like the CBD, Inner South, Inner West, Chatswood, Kellyville and Parramatta. Their rationale is that these areas are already high density with a surge of approvals still in the pipeline. Click for full story...
However Citibank clearly did not read this week's 'Building in Australia' report from BIS Oxford Economics, which forecast that residential starts will fall 31% over the next 3 years, including a 50% decline for new apartment commencements! Click for full story...
BIS also included a graph showing the stock over/under supply - with NSW still the most under-supplied State by a long way...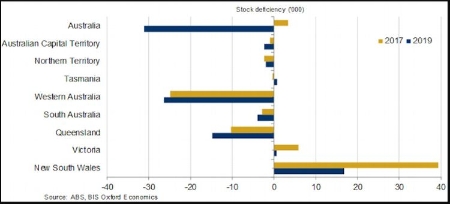 Sydney's massive under-supply combined with a potential 30% reduction in commencements, probably means that our supply problems will continue to worsen, and put even more upward pressure on prices.
Right now it seems that we do have an awful lot of new apartments for sale and under construction. HOWEVER - while there are some good deals at the moment - the market may not stay that way for very long.